Schipperke Testimonial 2
SOME OF MY PAST SCHIPPERKE PUPPIES THAT I RAISED AND FOUND LOVING HOMES FOR.
John and Heidi wrote: Our Lana is doing fine and is a very outgoing and energetic puppy. She will be a great hiker and loves to climb on rocks. She is doing very well. Gaining in weight, going on 9 pounds. She is very bright and quick - we have been able to teach her to sit and stay. Come is still a bit hard. Lana is doing fine and is now 11# and enjoying to be outdoors as evidenced by the above photo. Heidi wrote recently: Hi Jeanne, That's funny, we were just talking about sending you an update on Lana, when your e-mail arrived. Well, all is good with our puppy. She weighs 15 pounds now. She is still very playful, sweet and affectionate in her temperament but stubborn in certain areas (come!) just like the Schipperkes are. We know that from our first Schipperke. They do have their own mind. She is quite a jumper, something Dega never did, and loves to chase rocks. Late in December she must have hurt her rear leg, since it came up intermittently for a few days. We took her to the vet who suggested an ex-ray of her hindquarters. Well, John said no and I said yes and now I'm sorry that I said yes to the ex-ray. The ex-ray revealed hip dysplasia. Her hipbone which isn't round but more squared does not sit exactly in the socket. The vet pointed out the shadow behind the hipbone in the socket. I'm saying that I'm sorry to know about this because Lana shows absolutely no symptons of hip dysplasia. She runs around, is so active and unbelievable fast on her legs - it boggles our minds that she could have problems. The vet said, she can pop out the hip or knee easily. Well, we opted to watch her from now on and don't throw the ball in the house anymore where she can slip on the bare floors. However, when she has a crazy attack we cannot stop her running at 100 miles per hour! We don't know if you have come across that in other Schipperkes. If you have any recommendations for us we would like to hear about them. We will do another ex-ray when Lana is 2 years old to see if there is a difference. Best regards, Heidi & John & Lana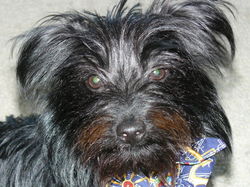 This is Alex (above). Alex is a Schipper-Poo. He lives with Mike and Nancy in Long Beach, CA.
Nancy wrote:
We could not love him more. He is perfect! The first day he learned how to get around Mikes wheelchair, he's fast. He sits in Mikes lap and drives around the big city. Boy that kept him wide eyed with excitement for a few days. We live on the ninth floor facing the city. He spends time staring out the window getting used to the sights and sounds. He bonded with Mike while I was on a cruise. I came home to a very loving, sweet and charming young puppy. I just adore him. He sleeps between us and so far we have taken us with him everywhere. He is sleeping at my feet now. He goes on the balcony to do his business. To our pleasure we have found he does not jump off the bed with huge energy, which is right at Mike and my speed. I can't thank you enough. It is obvious that you are a loving and caring breeder and person. Thank you a thousand times over. Nancy
Mike wrote:
Alex, our Schipperpoo now 2 1/2, continues to delight everyone he comes in contact with. He is especially great with children and other dogs. He has the sweetest disposition of any dog I have ever known and a touch of bravado ( I suspect that is the Schipperke in him).
I think it interesting and funny that he seems to exhibit exactly half of each of his parents attributes. Half of his ears stand up and the other half flops and he has about a 1 inch stub of a tail. He is all black with a brown mustache. Alex appears to be very intelligent, learns quickly, and runs and cuts so fast other dogs have trouble keeping up with him.
Nancy is a theatrical photographer who goes to several theatre productions a week. Often we take Alex with us. Just yesterday he sat quietly on my lap through two shows lasting more than 4 hours. He never uttered a sound, was interested in what was happening on stage, and delighted everyone with his poise.
Jeanne you obviously care a great deal about your dogs. Nancy and I were very specific about the kind of dog we wanted and went to the Internet to try to find someone who bred Miniature Poodles with Schipperkes. We are very fortunate to have found you.
Thanks again,
Mike
I noticed mike emailed you thought you would like a photo! thanks we love our dog 101%
One of these pups lives with Ken and Lisa and the other lives with Lisa's father, Gerald. Both pups are now living in St. Thomas, Ontario.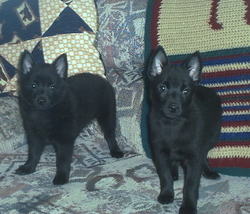 Lisa wrote:
Hi Jeanne Just a little note to let you know that the puppies are here and they sure are full of energy....LOL....but that is exactly what we wanted...Thanks sooo much for every thing and we will send pics soon :}
Hi Jeanne Just another little note to let youknow the puppies are doing well and i think they both like their new homes. They both have ajusted fine. Tomorrow the boys get to spend the day together it should be fun since they havent seen each other since Friday they are gong to go crazy!!! I m so glad we found you!! Thanks again Jeanne

- Lisa and Ken -

This is Rocky. He lives with Larry and JoAnne in Davenport, IA.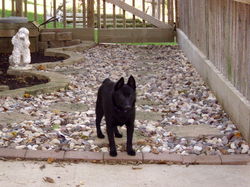 JoAnne wrote:
Haven't heard from you ......just wanted you to know we named the puppy Rocket Man & call him Rocky. He's doing very good. He's true to the breed....not real friendly with strangers at first, very curious & playful/active, never stops to nap and is already guarding our house with soft "ruffs". He & Cody are great pals already *& Cody's not whining or barking anymore when we leave, either is Rocky. They stay together in the grooming area in a double-wide metal crate. Tomorrow we're going to the dog park to see how he does. He was scared to death of my son's Lab at first, but now they're playing together fine. I switched him to Purina Puppy Smart Choice & he loves it. He got another DHLPP at vet and gets rabies in a month. Oh, I already took him to see my mom at the nursing home & he did pretty good. I'm using a harness as he hates a collar. I had strangers giving him dried liver treats, which was really helping.
Well, I know you're busy so I'll close for now, but if you have time, please tell me what you think about Cody & Chase trying to breed Rocky all the time. I know it's normal for puppies to do that, but these guys are neutered, age 5 & 8 yrs. old!! Do you think it's because he's new to the pack & so small?? He rather likes it & tries to breed cody ocassionally. It's rather funny!!
Rocky's doing great & getting better everyday. He sits on command already and goes down the stairs now, too, so we don't have to carry him anymore. He just mastered that today as a matter of fact. His name fits him....he likes to chew on rocks in our dog run! He did fine at the dog park the two times we went there, with people & all sizes of dogs. He evens comes pretty regularly for us when called. We use this pressed beef jerkey I buy at Wal-Mart & he loves it! I like it because you can break off little pieces of it. I give it to strangers to give to him when he goes up to them. Works great. The other dogs are letting up on trying to breed him so much. Guess the newness is wearing off & they've accepted him.
Well, we're looking like a real "doghouse" here, but it's really helping. He is even getting used to "rest time" from 8-9:30 pm in a crate in the family room right in front of me so I can work on my lap top & watch some tv without stressing over worrying about him messing on the carpet or chewing on some wood somewhere. We let him outside with the others at 9:30, then 30 mins. of playtime, then we all go to bed. The routine really helps.
Here are some photos of Rocky....you can use what you want. He's making good progress. He's 80% house-broke, but not totally. It's close to total when we are downstairs; where he can see the back door. When we are upstairs, it a bigger challenge -- sometimes he gives us clues; sometimes he doesn't.Thanks!

Cody fell in love with him on about day-2. He is back to his old self.

This is Toby. He lives with Sandi and her family in Beloit, WI.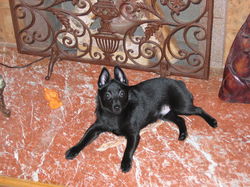 Sandi wrote:
Toby is doing real well and seems to have learned our patterns very fast. He's a wonderful little fellow who has
moved into our hearts very fast and I find it hard to believe he's only been here a couple of days. He's taken over the house and seems to be an energetic, happy little fellow. Toby is doing just great. He loves to eat and play. My granddaughter whose 9yrs old spent 11days with him over the holidays. He's full of energy and has well adjusted here. Right now he follows me from room to room. I havent taken any photos of him but will soon. He looks like he's doubled in weight and size. He's quite a little charmer.

This is Sparky. He lives with Theresa and her family in AZ. This is his baby picture. I am waiting for Theresa to send me one of him in his new home.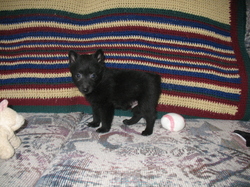 Theresa wrote:
Hi Jeanne,
I just wanted to give you the update on the worlds most wonderful puppy!. Sparky is doing really well. The flight was hard on him but he's now going into his grate with no problem. He started puppy training yesterday - and well - he's a Schipperke. He knew how to sit but he was more interested in watching the activity around him than getting a treat. He got another set of shots today and the vet said that he was in amazing shape. He's 6.2 pounds now but he's not a very good eater. I decided that since he doesn't really eat that much that I would just continue him on the Royal Canin. The vet asked if I researched the breeder alot before I bought him, because he had such a great personality. :)
Anyway, just wanted to let you know that all is well and he's well loved and taken care of. Thanks again for everything.
Theresa
This is Sierra. She lives with Allison and her family in Morganton, NC.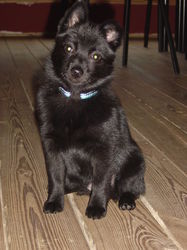 Allison wrote:
Just emailing to give you an update on Sierra (Suzie). She is growing like a weed. Her little floppy ear is now standing up and her coat is magnificent. She has become quite the hiker. She leads and protects us on the trails. And she has no trouble keeping up with the big dogs and putting them in their place. I have attached a picture, but they are very hard to get. She does not like to be still. She has brought great joy to our lives and we love her dearly. Thank you. I hope you and your family are doing great. Allison

This is Tessa. She lives in Appleton, WI with Steve and his family.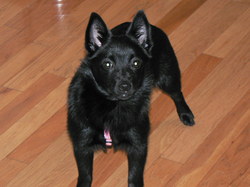 Steve wrote:
Hi Jeanne -Well the puppy is doing pretty good. We named her Tessa. She has been full of it the past few days/weeks. Likes to play and goof around. All of our children were home at Thanksgiving and had a fun time playing with her. She bonded very well with everyone.
Her bathroom habits are very good. She has had only a few accidents in the house, and that was probably because we couldn't read her signs that she needed to go outside. We did hang a bell by the back door and she has used it a couple of times. She's not quite used to the whole process yet. However, she does go and sit by either the front or back door when she needs to go outside.
I took her to the Vet about 10-days ago. She received a clean bill of health. The Vet thought she looked real good. Tessa was a bit nervous when she went in, but by the end of the check-up, she was buddy-buddy with the Vet.
Her one ear popped up this week, so she doesn't have a floppy ear anymore. I've enclosed a picture of her.

I'll keep you posted from time to time with updates. She's a good dog.